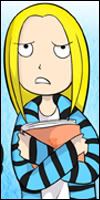 Aya Evans
Hair: Blonde
Eyes: Blue

Aya is a paranoid, shy, germaphobic, brainiac who dreams of nothing more than to fit in and be popular. Her secret admiration for pop sensation Inverted Axis gives her inspiration to keep her focused on her goal. She stutters and sweats when she speaks to people, and loses her words often. Can our heroine battle her awkward personality?



Ryan Adams
Hair: Purple/Blue
Eyes: Blue

More than fame, Ryan dreams of fortune. He plays guitar and sings in his own band, Crashed. He has a tendency to spoil his pet dog, Legato. Ryan doesn't think much before he speaks and often tends to act instinctively.



Brett Charles Kaplan (but you can call him "BC")
Hair: Pink
Eyes: Brown

BC is an outspoken liberal. He loves everyone, and is selfless and kindhearted. He might seem small, but he's got a big mouth. He is the drummer of Crashed.



Victoria Adams
Hair: Brown
Eyes: Brown

Ryan's older sister who lives in limbo between high school and many college choices. She spends time tormenting her younger brother and walking Legato. She missed the music gene in the family, cursed with a scary voice. If you ask her, she'll tell you at least she got the good looks.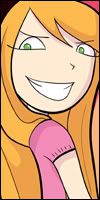 Stephanie Hill
Hair: Strawberry blonde
Eyes: Green

Paris Hilton, step aside. There's a richer and more popular girl in town. Stephanie loves shopping and cute jocks, and nothing stands in the way of her getting what she wants. As the most popular girl in high school she is treated like a celebrity, and has a major following. She hopes to take that with her when she makes it to Hollywood.